Deuxieme Picsous Defeats Nahar at Eskilstuna in UET Masters Series
June 29, 2013
Deuxieme Picsous (6m In Love With You-Carmela Stromline-Delvin Kosmos), in rein to Johan Untersteiner, handed Nahar a defeat in today's Gr. II UET Master Series Malarpriset Gold Division at Eskilstuna scoring in 1.12kr. The 2140 meter autostart event offered 300,000SEK to the winner. Robert Bergh's Nahar (8g Love You-Mahonny Broline-Joie de Vie), the 2013 Elitloppet winner, was second with Harry Haythrow (7g Rite On Line-Speedy Tilda-Spotlite Lobell) third for Peter Untersteiner. Iceland and Oracle were also in the beaten field. The winner's maternal family brings back memories. His second dam is Shark Bait Staro (Bonefish-Jitterbug-Speedy Scot) and two generations further back shows Gremlin, dam of Saboteur, winner at age two of the E.H. Harriman Challenge Cup and the American-National. Don't overlook the sire In Love With You either. He's by Coktail Jet from Amour d'Aunou.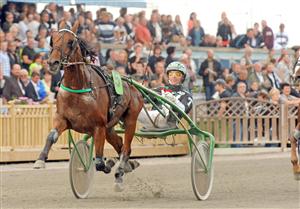 Deuxieme Picsous
Nahar was used hard in this effort, attacking three-wide to gain the lead after You Bet Hornline and Mr. Pocolit battled early. You Bet Hornline followed Nahar and then broke stride allowing Deuxieme Picsous an inside opening that he took full advantage of to score at 17/1. Race replay can be seen at http://www.youtube.com/watch?v=pgw5-vmL75k
The fine card at Eskilstuna also included other serious winners:
Time Machine (4m Super Arnie-Union Highness-Pythagoras) won the Klass II Final in 1.13.8kr for Jorgen Westholm. The 2140 meter autostart race provided 200,000SEK to the winner who is six for 19 lifetime;
Sahara Fairytale (4f Viking Kronos-Sahara Shadow-Graduate Student) won the Klass I Final in 1.14.1kr for Lutfi Kolgjini. The 2140 meter event offered 200,000SEK to the winner;
Rolling Stones (3m Viking Kronos-Hot Pants-Pine Chip) won the Svenska Fodor Gr. I International event in 1.13.8kr. The winner earned 800,000SEK in this 2140 meter autostart race. Orjan Kihlstrom drove for trainer Stefan Hultman to keep the winner undefeated in seven lifetime starts. Watch this one in future summer three year-old battles. Breakbumper (3m by Viking Kronos) finished second for Robert Bergh with Tumble Dust (3m by Crazed) third for Johnny Takter;
No Deal (8m Earthquake-Eli Split-Clash Hammering) took the 2140 meter autostart Bronze Final in 1.12.9kr for Johnny Takter. The winner earned 220,000SEK and scored for the 22ndtime in 50 career outings;
The Svenska Foder Final Gr. I International for fillies went to Mellby Briolett (3f Going Kronos-Merit Lane-Lindy Lane) with Johan Untersteiner up for trainer Roger Walmann. The 2140 meter autostart event earned 800,000SEK for the 1.14.5kr winner;
Rocky Winner (5m Credit Winner-Level Fortytwo-Arnaquer) won the Silver Division in 1.13.2kr over 2140 meters autostart. Ake Svanstedt drove the winner to the 250,000SEK score.
At Dannero the veteran Kadett CD (6m Scarlet Knight-Kiss of Life-Tenor de Baune) won a 1640 meter event in 1.13.1kr for Ulf Eriksson. He earned 20,000SEK for his 21stwin in 39 lifetime starts. Robert Bergh trains the winner.
At Kincsem Park, the 500,000 HUf Lady Flame DIK went to Vic Attack (10g Hans Boshoeve-Iris Attack), scoring for SLO trainer/driver R. Hanzekovic and owner Fred Hocsman. He defeated Rose's La Nina (by Pearsall Hanover) and Orifiamma Jet (by Supergill from Ticket To Ride) in 1.17.9kr over 1960 meters in this distance handicap race. The winner has won three of his last four, two at SLO tracks Ljutomer and Ljubljana. Last week at Kincsem Park the top HU-bred trotters contested the prestigious heat-race, the Dr. Jozsef Vecsekloy Memorial for 2 million HUf over 1800 meters autostart. Post positions were drawn in advance for the three heats with final results determined by best in placings. Landlord (8m Baltic Bet-Golden Lady) took heat #1 in 1.15.1kr, from post six, over Nobody (6m Tony Oaks-Gunnel Diadem) with Lucky Luke (8m Copiad-Eugenia) third. Heat #2 went to Nobody from post eight with Emil Csordas the trainer/driver, in 1.17kr over Nana (6f Tony Oaks-C'est la guerre) and Orlando Bloom (5m Zador-Donna Summer), both Imre Fazekas trainees. The two heat winners matched off alone in heat #3 with Landlord making a decisive stalking move to defeat the game Nobody in an all out sprint to the line. In the placings, the race win went to Landlord (1-6-1) over Nobody (2-1-2) with Nana (5-2-x) awarded the third spot. The weekly fast-class race on that card was won by Nick Nolte (6m Tony Oaks-Szinesnzo) in 1.17.5kr over 1960 meters. The distance handicap Butterfly DIJ saw Orifiamma Jet finish second ahead of Zavita Meerswal (7f Good As Gold-Davidia Storm), a recent import from Finland.
Stall Trot Inc.